RESPECT. Had the opportunity to talk about football with San Diego Chargers rookie and former Washington State University standout, Dom Williams. During the interview, Dom spoke about his transition from playing in college to his preparation as a professional football player. He spoke on what he will miss the most about Pullman, Washington and what motivates him to get out of bed every day. You can read the interview below. We wish Dom and The Chargers a great rest of the season during this final stretch towards the playoffs.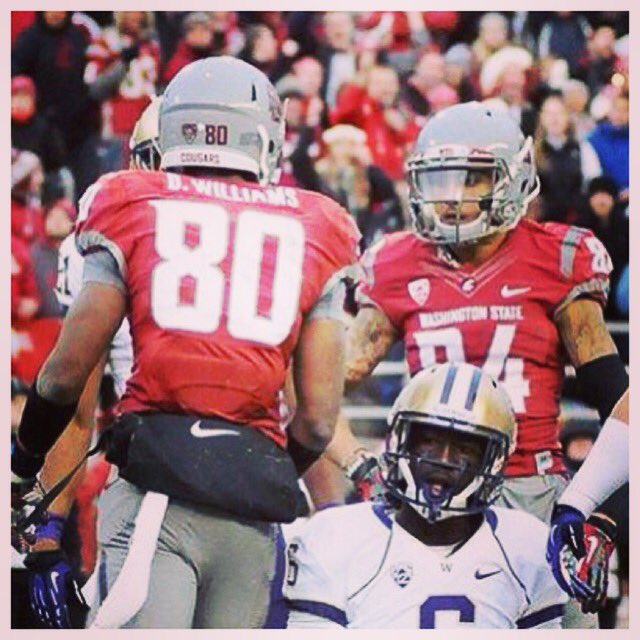 RESPECT.: Can you tell us how Washington State University's Mike Leach Air Raid Offense has prepared you for the NFL?
It allowed me to compete against the best that the Pacific 12 had to offer as a conference. In addition, it also prepared me to put in the time and effort that was needed to prepare me mentally and physically to go through the free agency period to land with the San Diego Chargers.
RESPECT.: What is something that you are going to miss about Pullman Washington?
Mainly the atmosphere to be an honest game day in Pullman was different and inspiring. I am going to miss my teammates that I had the opportunity to go into battle with every Saturday and of course the fan support we had in Pullman.
RESPECT.: Can you actually take us through the Pro Day concepts and protocol?
The Pro Day concepts or the criteria consist of weight ins, drills, arm measurements, vertical jumps, bench press. Since, I am a wide receiver they had to be specifically run route patterns to see how fast I came out of my of breaks, acceleration and acceleration and relation time when the ball is in the air. This is typically an hour to an hour and a half process, they want you to be prepared to perform all of the drills to get an accurate reading of your skill set.
RESPECT.: What is it like playing with Phillip Rivers?
Phillip is a great guy he is some that I can walk up to and ask questions when I need some of the playbook concepts clarified. He is also a leader that loves to have fun as well, he will tell jokes when need and be there to give words of encouragement to those who need it. The Best advice he has given me since I have been around him was to " Just have fun we are here for a reason so we should embrace it!"
RESPECT.: How much of the Chargers play set reminds you of your time in Mike Leach's offense?
It is like night and day! In coach Leach's offense, it is more air raided meaning we are going to pass the ball and it is the complicated as you might think, but the NFL pro set offense are very complex with of schemes and concepts I have never heard of until having to study my playbook. The running the routes are just like I did in college, but getting a grasp on the schemes and concept is what has me up late at night studying the craft.
RESPECT.: What are some the techniques you are trying to improve on heading into the latter part of the season with the San Diego Chargers?
Not so techniques, I try to choose something to improve on a daily basis if that coming out of my breaks, timing by doing extra drills after practice. I cannot say anything specific because I am trying to improve as a player overall.
RESPECT.: When you are not watching game film, what are some of the things you enjoy participating in?
During the summer, I really enjoyed surfing, but during the season, it's been more of going to the movies and hangs out with the family.
RESPECT.: What is some of the music that gets you and the team hyped up before a game?
I typically listen to Migos and Young Thug nothing too out there you have to remember we are trying to stay focused on the task at hand which is trying to win the game.
RESPECT.: What do you are your principles when it comes to partnering with companies for endorsements?
It has to be more than just the business side of the relationship and both sides ultimately have to care about the other side, it's a bonding partnership for the amount of time that we have agreed upon. So, in my opinion, it has been a great relation for both sides. I just want to be seen as a normal individual, to be honest with not as just as the public figure  because of the NFL label behind me now.
RESPECT.: What motivates you to get out of bed every day?
I was always told my grandmother I would make her proud she has been to almost all of my games to date. So, making her proud is my motivation to get out of bed every day!
RESPECT.: Finally, what advice would you like to pass on to the individuals out there looking to pursue dreams ?
No matter what type of background we come from if you believe in yourself, you can accomplish anything set your mind too!